ONE OF THE FEW PLACES STILL WILD
Lac holt outfitter's destination
LAC HOLT FISHING LODGE IS LOCATED IN THE AREA  OF THE LOWER NORTH SHORE OF THE GULF OF ST. LAWRENCE, NORTH-EAST FROM HAVRE ST-PIERRE.
FROM DOWNTOWN MONTRÉAL IT'S A ROAD TRIP OF 1125 KM OR 860 KM FROM QUÉBEC CITY. BY USING HWY 138, YOU HAVE TO DRIVE UP TO LA BASE DU LAC DES PLAINES CLOSE TO HAVRE ST-PIERRE AND THEN, IT TAKE 35 MINUTES HYDROPLANE RIDE OVER A VIRGIN COUNTRY TO GO UP TO OUR PLACE.
THERE'S NO OTHER WAYS TO GO AT LAC HOLT FISHING LODGE. THE PLANE RIDE BY ITSELF JUST WORTH IT. 
YOUR 2 HOSTS LUC BROUSSEAU AND PAUL COMTOIS WILL BE HAPPY TO WELCOME YOU ON OUR WONDERFUL BEACH RIGHT IN FRONT OF YOUR DESIGNATED COTTAGE.
LOOKING FORWARD TO SEEING YOU SOON
Lac holt outfitter's destination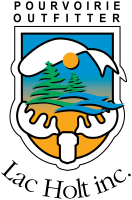 Paradise is located an easy 40 minute plane ride from Havre-Saint-Pierre over some of the most beautiful wilderness of the lower North Shore of the Gulf of St. Lawrence.
Lac Holt Fishing Lodge contains  the Watshishou River , the home  of freshwater Salmon (Ouananiche). Three main lakes (Watshishou, Big Holt, Little Holt) are interlocked with beautiful stretches of fast water, rapids, falls, and pools, ideal  locations and feeding grounds for salmon and trout.
We offer the opportunity for all types of  outstanding fishing, whether trolling or casting on the big lakes from boats, or wading into deep pools below rapids, where the big freshwater salmon thrive; the Ultimate fly fishing experience.
Lac Holt Fishing Lodge offers  the ideal habitat for Speckled Trout, Arctic Char, and Freshwater Salmon, and our guests are all treated to extraordinary high quality fishing, resulting in the REAL fishing experience of a lifetime.
To preserve and protect the quality of the Lac Holt Fishing Lodge, and to ensure our  that our guests experience a special and private time, we voluntarily limit the number of visitors. We ensure that our visitors have the place "all to themselves".
Lac Holt Fishing Lodge is also among the first lodges in Quebec to desiginate certain parts of our territory as fly fishing and catch-and–release only.We would be pleased in having you experience this first hand.
Read On !
We offer a main lodge for up to four guests and smaller cottages for two and four guests, all set along the shores of the lakes and rivers of the Lac Holt fishing lodge. All are equipped to provide a comfortable, safe, and memorable experience. We offer both American and European plans and can tailor any plan to your  particular needs or requirements.
All accomodations include fully equipped kitchens, and washrooms with hot water and showers. Wood burning stoves add comfort and coziness. Fresh, natural, and pure drinking water is part of the experience.
Our team will see to all your needs and will go that extra distance to ensure an outstanding experience. Personal touches and attention will enhance your stay.
Because we know that in today's world, even getting  away to the wilderness doesn't mean that you can't connect. We offer internet access and ip phone service as well as sat phone hook ups in the main lodge and cottages.
We strive to ensure your comfort and we also want you to remember us and relish your experience, so we know that food helps. We offer great food, great home cooking so you can have the experience of taking  outstanding meals in a gorgeous setting. You will always remember sharing your freshly caught fish among friends. Your toughest decision will be what wine to bring.  
We offer to freeze your catches so you can take back your trophies for bragging rights.
Reserve your spot now for season 2023